Dean of Biblical Studies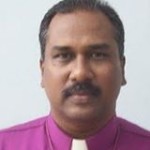 Greetings to the prospective students
I have the privilege of inviting students to study Biblical Studies program at Sanbaltar University. The department of Biblical studies provides an excellent environment to pursue your goals. We are committed to the Great Commission (Matthew 28:19-20) and will help you to understand and equip you to fulfill the Great Commission and bring glory to God.
The Biblical Studies program is based on strong biblical principles and academic excellence. Your education at Sanbaltar will give tools that will make you useful in making an impact in the social and spiritual realm of this world. At Sanbaltar we study in-depth the Life of Christ, New Testament and Old Testament Theology, Missions and Evangelism, Cross Cultural Ministries, and Comparative World Religions.
I welcome you to consider and join the Bible Study program at Sanbaltar. May God guide and lead as you make this very important decision of your life.
Dr. Stanley Deepak
Dean of Biblical Studies